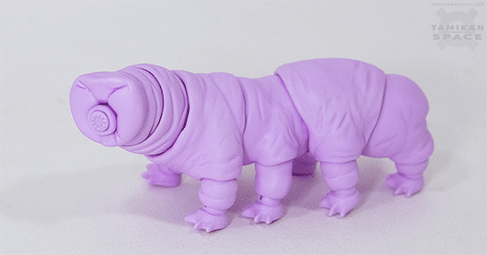 Tamikan Space Pet Tardigrade is a ball-jointed doll cast of polyurethane resin standing 6 cm (less than 2½") high. Its length is about 13 cm (5"). It has strong magnets in its feet and a magnetic mechanism in its tubular mouth that helps to pull it out and then pushes it back.
A doll of light purple "MyGiantWaterbear" colour costs $150, a blue "DeeplyInSpace" and a tinted transparent "ClearlyRealistic" ones are made from different optical resin and cost $175 each.
We don't take orders for these dolls at the moment. If you are interested and wish to be informed about the pre-order reopening, please, fill the form below to subscribe to our newsletter.
Please, take into account that actual products may have slight differences in colour, and pictures colours may vary on different monitors.