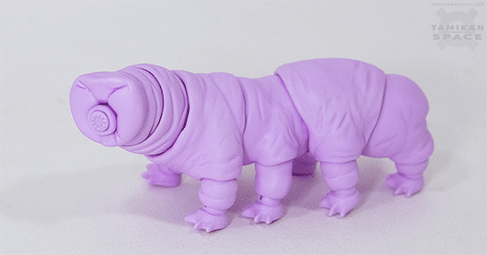 Tamikan Space Pet Tardigrade is a ball-jointed doll cast of polyurethane resin standing 6 cm (less than 2½") high. Its length is about 13 cm (5"). It has strong magnets in its feet and a magnetic mechanism in its tubular mouth, which helps to pull it out and then pushes it back. There are three types of tardigrade tints: opaque pastel ones; different translucent and almost opaque dark ones; glowing in the dark after being exposed to bright light ones.
A pet costs from $150 or $175 depending on its colour. Your Tardigrade can be tinted with a custom or one of the previous basic colours, the price of such a doll is $250. We take at least 50% prepayment plus full accessories cost via PayPal. Upon recieving it, we begin to process the order. The production takes 2–4 months, and then the doll is shipped after we recieve the rest of the payment together with postal fee that is not included in the price. If you don't answer our messages and don't buy out your doll for a month from the time when we informed you that it is ready, we consider ourselves free to sell it elsewhere, in this case the prepayment is not returned (we can once produce a new doll instead of the sold one, but it will take another 2–4 months).
To place an order, please, fill the form below, we will prepare your invoice and answer in the course of two weekdays.
Please, take into account that actual products may have slight differences in colour, and pictures colours may vary on different monitors.